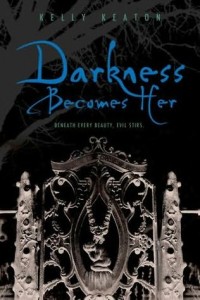 Release Date -
February 22, 2011
Publisher -
Simon Pulse
Age Group -
14 & Up
Pages -
288
Rating - 4/5
Summary -
Ari can't help feeling lost and alone. With teal eyes and freakish silver hair that can't be changed or destroyed, Ari has always stood out. And after growing up in foster care, she longs for some understanding of where she came from and who she is.Her search for answers uncovers just one message from her long dead mother: Run. Ari can sense that someone, or something, is getting closer than they should. But it's impossible to protect herself when she doesn't know what she's running from or why she is being pursued.
She knows only one thing: she must return to her birthplace of New 2, the lush rebuilt city of New Orleans. Upon arriving, she discovers that New 2 is very…different. Here, Ari is seemingly normal. But every creature she encounters, no matter how deadly or horrifying, is afraid of her.
Ari won't stop until she knows why. But some truths are too haunting, too terrifying, to ever be revealed.
Review -
When I first pulled this off my shelf I was so excited to start it because of all the hype I had been hearing. I have to say the book definitely lived up to the hype. It had just about everything that I enjoy in a novel.
I like the cover, it has kind of a gothic feel to it, which goes well with the book, but I didn't quite find a connection with the cover and the book which could just be me. Although I still like it and after seeing the hardback cover in the store it is quite gorgeous.
The plot, I LOVED the plot. Everything about it. Darkness Becomes Her had a lot of Greek mythology intertwined in it. I have always been interested in Greek mythology but I don;t know much about it. When I started reading I had no idea that the story was gonna take the twisted path that it did. Twisted meaning the ups and downs and turns, not crazy twisted.
And the characters. I liked all of the characters. Ari was definitely my favorite. I loved her attitude. There were many times she was unsure and then she turned it all around with here "you can stick it" attitude.
I loved Ms. Keatons writing. She put enough details into it without overdoing it. My biggest thing I look for in an authors writing is if they can give me a picture without overloading and she did it! There was some profanity that could offend some, although it didnt bother me.
And she did a great job ending this novel. The ending made me gasp and left me wanting to know more. I had to know what was gonna happen next and I cant wait to read the next novel in this series.
This is a novel that I would reccomend to anyone who loved paranoral, mystery, romance and Greek mythology.
Cover - 3
Plot - 5
Characters - 5
Writing - 5
Ending -
5